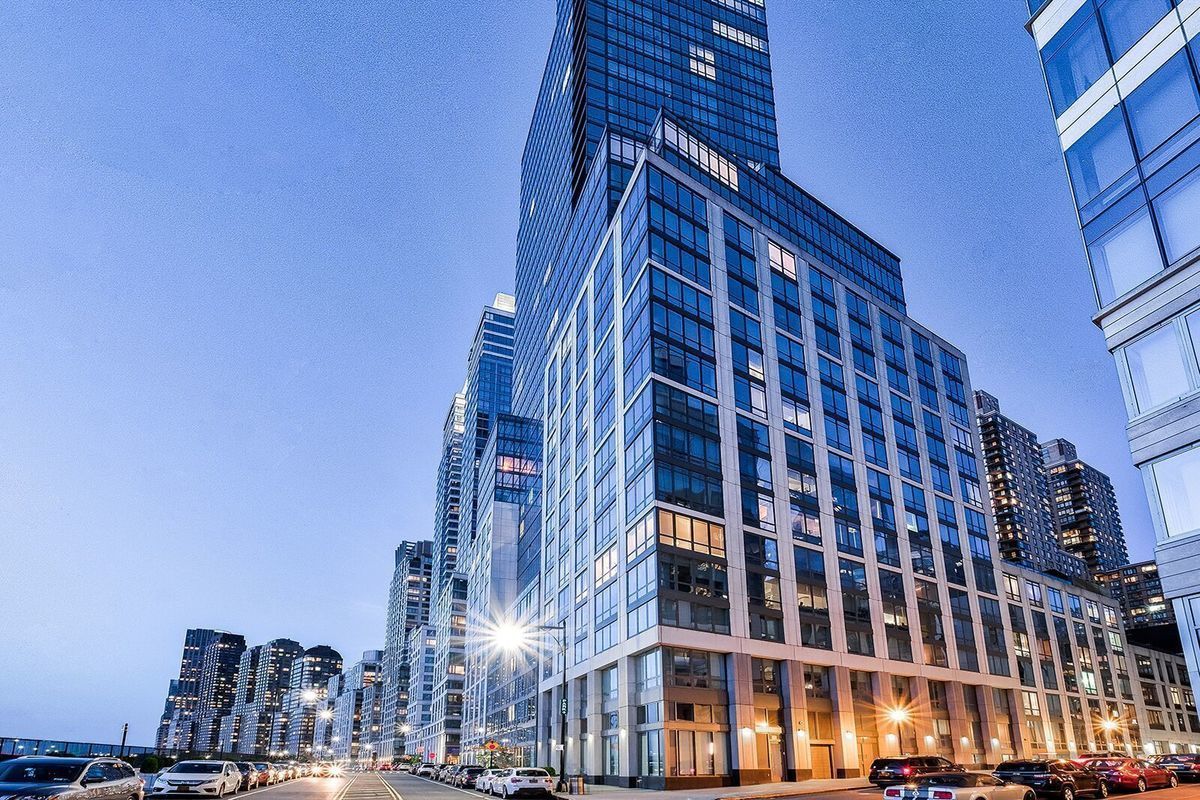 I wanted to write a review for others considering moving here. There are several parts to this review:
Summary for Renters
Ashley vs Aldyn
Amenities
Lobbies and Staff
Sales Process
Throughout
Entries
Kitchens
Bathrooms
Heating
Final Notes for Renters
Final Notes for Buyers
Summary for Renters
If you have kids or are a work-out fanatic with a tight schedule, and you are looking for a new building with a high-end look and feel, you've found a great place to live. Although as you'll see below there are several serious flaws in the building's design, we would still choose to live here knowing everything we know now. Since we work from home, the Aldyn is going to be a great place to raise our two children (we have one on the way) in their pre-school years. We're still right in Manhattan, a 10-minute walk from Time Warner Center, there are literally dozens of pre-schools within a short walk, there are parks everywhere, and the sports complex gives parents a chance to stay in shape. I happen to think it's a better time to be renting than owning, so for us a 2-4 year stay here will be just right.
Summary for Buyers
Buyers have a different kind of decision. Read the entire review, and then see my summaries for two different kinds of buyers at the end.
The Ashley vs the Aldyn
The Ashley is a rental-only building of around 24 floors. One-bedroom prices are in the $3k range, 3brs go for around $11,500, and 4 brs for $16k or so. I understand the Ashley is about 80% rented, possibly more by the time you read this.
The Aldyn is mixed. Up to floor 10, it's rentals. From 11 to 40, it's condos. From what I have learned, there is no difference between rental and condo units. Rentals start at $3k and go up to $16k for a 4brm, and sales are roughly $1m per bedroom up to about 4brms, then above the 30th floor, prices take off up to $16m for a 6brm. There are many in the $3-4m range. Condos are not yet occupied. Renters have just started moving in.
Both buildings are rent stabilized. Contracts are for 1 or 2 years. You get an additional free month for every 12 when you sign, so if you sign for 2 years you'll get 26 months total.
The Amenities
The real reason we're here, of course, is the unparalleled La Palestra experience in the lower level, between both buildings. Wow. The list includes:
A 25m lap pool (83 degrees, F)
A small hot pool (95 degrees, F)
Full-court basketball
Squash court
Two-lane bowling alley
Ping pong table
Pool table
Excellent natural-features climbing wall with auto belay
Huge selection of weights and machines
Pilates studio
Spinning studio
Ballet/dance/yoga room
Warm room
Cafe
Locker rooms, steam rooms, dry sauna
An extra tiny room with a few steppers for 24-hour exercise
All of this with La Palestra's incredible health, fitness, and nutrition programs for kids, adults, pregnancy, private instruction, spa, and more. They also plan adventure trips. Cost for renters is $300 for the first person and $100 for the second person per household, per year. If you own, your membership is complimentary. I've been told the full-time staff here will eventually reach 40 people. Personal trainers are a hefty $110/hour and spa services are also extra. At the moment, they are operating a very light schedule – the bowling, climbing, spinning, and Pilates are all closed, and hours are limited. But once things pick up, we'll see more come online.
There is a private courtyard between the two buildings. It looks pleasant. A chance to be outdoors in the sun without the wind coming off the river. We'll see how it develops as a social space.
Each building has a kid playroom designed by Kidville. My understanding is that Kidville won't be running any programs, they just design the space. I hope they realize that many parents have extra toys and play furniture to donate, so they should get the parents involved and let us work things out.
Lobbies and Staff
There are huge differences in the lobbies of the two buildings.
The lobby of the Ashley is elegant, understated, yet formal and efficient. You could compare it to a high-class hotel lobby. For a rental building, it's stunning. And the tastefully done library/lounge area nearby is a lovely place to hang out and work with a laptop, read a book, or enjoy conversation. Feels a bit like a ski lodge. This elegant environment completely overstates the rental style of the units above.
In contrast, the lobby of the Aldyn looks like the service entrance to the Ashley. It's not easy to get terazzo to look like linoleum, but that's because it is linoleum. The "cantina" is clearly visible from the lobby, making the entrance look like the shortcut you take back to work after your cigarette break. Whoever owns the $16m penthouse will have to build a helipad on top to keep their guests from having to walk through what looks like a community center with donated furniture and a long wooden bench no one will ever sit on. Access to the elevators is similarly drab and service oriented. Compared to the lobbies of the Extel-developed buildings in the neighborhood, I'm tempted to put a big sign in ours reading "Welcome to trailer village."
While other Extel-developed buildings next door have sumtuous lounges, meeting rooms, libraries, billiard rooms, and private screening rooms, the Aldyn has a "function room," which promises to be a marketing room until the last condo is sold and isn't likely to be a place to hang out during the day. The Aldyn is sorely missing a lounge and a meeting room. If you move into the Aldyn, do NOT go look at the buildings nearby – it will make you cry.
The staff, so far, is superb. Better than great. Incredible service attitude and attention to detail. They are apologetic about the brain-damaged aspects of the building's design (see below) while being proud to be among the first to work in this flagship building on Riverside Drive. You really can see the pride in their faces – they love their new jobs.
The "Concierge" service by Abigail Michaels is worthless. They say you can use them to coordinate your move, but you can do that easily through the rental office. They also offer help getting tickets to Broadway shows and reservations for NYC restaurants – wow, I'm speechless.
The owners have been insightful enough to start with BuildingLink software for the building, which really helps a building run smoothly. Unfortunately, it won't be an online community. It's just a controlled, company-approved notice board.
I'm told we'll get complimentary muffins, pastries, breads, and coffee every morning in the cantina starting in a few months. This is for Aldyn residents, not Ashley residents, and should be a great way to start the day. It's a trend that's picking up and I think it's a great way to spend some of my rent money. I'm looking forward to meeting people in the mornings. Too bad there's no lounge for hanging out later in the day.
The Sales Process
Citi Habitats runs sales, both for rental in the Ashley, and rental and purchase in the Aldyn. While I have had decidedly negative experiences with Citi-Habitats in the past, this team is organized and efficient. In dealing with Chris, Jan, and Anna, I had nothing but intelligent conversations and patient attention to all my questions. They work 7 days a week and are willing to do what it takes to fill this building, even if it means showing you the same apartment three times in three weeks. The paperwork process was well guided, and they went out of their way to help us with a difficult qualifying situation (I work for myself and my income isn't regular). They really came through for us, helping the owners see that we weren't a credit risk and getting us the lease we wanted without a penalty for being different from the norm. I was impressed.
What follows now is a detailed "contractor-style" report on the units in the Aldyn. This is not meant to substitute for a contractor's report on any particular unit. I simply want to give an unbiased overview of the building's features for prospective renters and buyers. Note that the units for renters and for sale are identical in all respects, except for the floors they are on.
Throughout
The floors, made of engineered wood, are a fine choice for this kind of building. You can get better flooring, but you'll pay many times more, and for rentals this kind of floor makes sense. (Get a steam mop for cleaning – Eureka and Haan are both good choices.)
The 9-foot ceilings are very nice. You can live in 9-foot luxury throughout the building, with even higher ceilings starting on floor 10. Surprisingly nice, given the overall cheapness elsewhere.
The sheetrock work is slightly above average. I only see the occasional screw head below the paint, and looking along the ceilings you can see the joints, but it isn't too bad and you can't get a lot better without hiring really top people. Studs are 24" apart, and it shows. 16" is the builder-quality standard for a good reason. The walls come out stronger and less wavy with more studs, but of course more studs cost more money.
The ceilings are smooth flat concrete. Nicely done. Impossible to get a wire in for hanging a lamp, but nice and flat and noiseproof.
The doors are cheap but nicely hung, and the bathroom doors are cut wonderfully high, to clear thick bath rugs – a nice touch. Overall, the millwork, tile, and paneling is much higher than average. I would give the tile work an 8, which is pretty good since I'm very picky about grout lines. The tiles are cheap, but they look good.
The full-extension drawer glides by Blum are first class, and a welcome surprise. The hinges are the kind you buy by the box at Home Depot.
There are tons of outlets, and they are well placed. There are switched outlets in each room, so you can add your own uplights or hang lamps with cords running up the walls, as you like. In fact, we have one junction box in the ceiling of our "great room," not too far from where our dining table will likely be, from which I can hang a lamp. I think they should have added down lights, which they did in the units with higher ceilings.
A good example of a false economy: the switch/outlet cover plates are the cheap, old-fashioned kind with exposed screws. I haven't seen those on a new building in years. Yes, they are cheaper, but because the electricians take pride in their work, they align the screw slots so they are all vertical, taking more time and costing more money in the end than if they had gone with a contemporary press-on cover plate. Another beancounter decision gone wrong.
The floor-to-ceiling windows are awesome. I love the quality of the windows, seals, and latches. It isn't Switzerland, but it's close.
Time Warner's Road Runner service is excellent here. I asked for an upgrade to "1.5x speed" and I'm measuring about 9 megabits per second on the download. That's fast enough for any high-def Netflix movie to a big screen TV. I would recommend getting the "1.5x" option when you speak with the rep about your service.
Entries
The entries are nice and workable. Most have the Bosch washer/drier pair that are quiet and work well. They don't have the usual Euro-blizzard of icons, either.
The weather sealing on the doors could be better. The locks use Falcon cylinders, which are cehap and pickable. On a building like this, they could have gone for keyless entry, managed online, but instead they went with cheap cylinders. If I were buying, I would replace them with my own keyless system.
Kitchens
The kitchens are the centerpieces and are designed to be open and contemporary. They look nice. Some are much more practically designed than others. The appliances are a hodge podge assortment that could only have been chosen by someone's nephew, counting kickbacks.
The king of the kitchen is the Miele refrigerator, which is about as good as refrigerators get, bar none (I personally dislike SubZero – they break). The marble countertops are a nice touch, but are actually fairly low grade (and they should tell you to wipe up wine and vinegar stains immediately). Caesarstone countertops are by now practically required in buildings like this. They are so cheap that nothing can beat them. This isn't high-end finishing, but they chose a bright white rather than the off white of the Ashley, thank god, so it's not an embarrassment. Lasts forever.
Here are some of the pain points:
This is not high-end kitchen design. It's decent, and some units do have good useful kitchens. I've seen many of the different layouts (in some apartments you actually enter through the kitchen, which isn't very nice), and I would say about 80% of them are designed to a middle level of functionality. A few of them do look quite well designed for cooking, but they are in the 4brm units.
Microwaves are conveniently located behind a door at knee level. True.
A pantry too small. Each kitchen, and I've seen several, is about a pantry too small. Only a couple of kitchens are of an adequate size for their units.
The Smeg dishwashers suck. Apparently, the people at Smeg don't expect you to put tall drinking glasses in – they break during the wash cycle. Note that your dishes will come out wet unless you use a rinse agent, like Lemi Shine, which works great. If I were buying, I'd toss this thing and put in a Miele.
The sinks and faucets are by Elkay, a downmarket brand for do-it-yourselfers putting in Home Depot kitchens. I think the sink is actually stainless steel, but it's so thin and poorly finished that it could be something cheaper. The folded-over "farmer sink" look that was popular about four years ago has resurfaced in the Aldyn, only to stay frozen in time for as long as we live here. The Elkay faucets are in the brushed nickel I'm getting used to here – should be ready to replace by the time we move out.
No disposals. Are we living in the Village? Go to Amazon.com and get yourself an InSinkErator Evolution Cover Control disposal and a dishwasher connection kit. Have it installed before you move in. Even if you're a renter.
Useless range hoods above the ranges do NOT exhaust but rather recycle the smoke. Worse, they are located right where the GE range-top microwave should be. If you are buying, absolutely replace the phony range hood with a GE microwave and throw out the little microwave you got, rescuing the space.
Smeg Ranges are very difficult to use. Most ranges pretty much do the same thing. The trick is in making an intuitive interface and keeping kids safe. Smeg fails on both accounts. I am willing to bet good money that 99% of the clocks on these ranges is never set – it's impossible to figure out how to set them without the manual. You have to look down each and every time you fire or adjust a hob – there's no getting used to the row of identical knobs. Buyers – replace these ranges with a better range before you move in.
Bathrooms
Overall, the bathrooms are really nice. For American-style bathrooms, they are very livable (why people here prefer the toilet in the bathroom, I have no idea). The tile and grout work is excellent. The paneling is a nice touch, even if it limits the amount of shelving (a clever person like me can always work around that). It's interesting to see the Waterworks logo here – they must have been the low bidder, and they were obviously willing to work with a very cheap client who wanted to cut corners at every possible turn.
A few notes:
The biggest drawback is that since all bathrooms in this building are different sizes, they should go with different sized vanities for a custom look and better use of space. But they didn't. The vanities are ALL the same tiny size as you find in the one-bedrooms, even in the penthouses. The main exception is that the master baths of the 3br units and up have nice double vanities, but our 2br master bath does not. The vanities, in general, are too small.
The Toto toilets are sublime. I've always wanted a Toto toilet and now I have two. I love them.
The tubs are awesome. My wife loves them. They are wonderfully deep. You might forget to come out.
The cabinets are very nice, nicer than they should be for a rental and good enough for a mid-range condo. For a high-end condo, I'd expect more.
The porcelain vanity sinks are average. They don't slope and the overflow holes are right in front of you all the time (they could have turned them, but that would cost more).
The drain pop-ups are spring-loaded, "retrofit" style, again in brushed nickel, which you have to plunge your hand into the water to open. This is both in the sinks and tubs. Wait until you have a tub full of water and need to figure out which way the thing needs to go to open! They should have proper levers at the deck height.
Lavatory faucets are the three-hole style, which is lovely in British rural inns. In my view, these should be single-lever style that are easier to adjust and keep adjusted. If I were buying, I would toss the vanities entirely and start over. Do you really want a $200 sink in your $8m condo?
The shower bodies are of the same down-market cheapness as the fixtures; expect them to start giving problems in 4-5 years.
The shower and tub faucets are "blind," so you're forced to turn them all the way hot to get the hot water flowing, then back down some amount to a comfortable temperature, which you don't know because it isn't marked anywhere. You need to find the right temperature manually each and every time. You can't adjust flow separately from temperature. The right approach is the kind where you adjust temperature independently but it still uses a thermostat, so it doesn't scald you. Honestly, in any condo costing more than $2m, the shower faucets should be made in Germany by a company whose name starts with a D, G, or H. Preferably a D. Why they chose the absolute cheapest fixtures and faucets I will never understand. Okay, I guess I already do. I'm considering getting my own lav faucet and installing it, then pulling it out when I leave.
Since the floors aren't heated, you will want to get big fluffy warm bath mats. Try the "Ruia Home" organic cotton ones sold at Amazon.com.
Heating
Now we come to the important point, and I don't want you to take my word for this. Check with a competent heating specialist. The heating and air conditioning in this building are a disaster. I will unpack that so you understand what you're moving into.
Heat registers are made as a single unit, including the thermostats. This makes them cheap to make and install, but it is the worst way to set up a heating system. Any junior heating guy knows you don't put the thermostat near the heat source. You put it on the opposite wall. Whether heating or cooling, these units don't keep the room at a steady temperature. During the winter, you must turn the heat up by hand at night and keep reducing the temperature during the day as the sun enters each room. You will do this many times per day, for each "thermostat" in your apartment. I suggest coordinating with your spouse, so you don't duplicate the work and end up raising or lowering too much. The numbers on the thermometers mean nothing. All the regulating is done by you, the occupant, by hand. Someone in the sponsor company made the decision to go with these units, and some heating contractor installed them, and both should be ashamed of themselves. Years from now, when we move out and move into a new place, I will miss the lovely Aldyn, but I won't miss screwing around with thermostats every few hours.
The heat registers are at the top, near the ceiling. Yes, this is true. Great for summer, when the same register is used for AC, but during winter you'll find a temperature difference of about 10 degrees from floor to ceiling. Our floors are freezing, and our ceilings are nice and toasty. We are waiting for people to move in below us to heat up our floors.
I just discovered that you can change the angle of the vent fins yourself! The day you move in, take a pair of needle-nose pliers and orient them down, toward the floor, and to the side, toward the center of the room. That will help a lot.
Bathrooms are unheated. The bathrooms have really nice marble tile floors (see below), but they have no heating. The floors are freezing. This will probably be a huge plus in summer. If they had gone for thermal floor heating, the tile would be warm and inviting, but oh, that would cost too much money.
To make things worse, a vent runs continuously sucking any hot air that enters the bathroom up through the ceiling. In fact, these vents simply suck the hot air along the ceiling from the heating registers, so there's a river of warm air snaking along the ceiling from the heaters to the bathrooms and then up and out. Down at living level, the rooms stay nice and cold. Furthermore, this kind of venting should be under user control, not automatic. The building is continuously throwing mass quantities of heat right out into the cold. They couldn't have done it worse.
This arrangement is the most wasteful I can think of. Heat pumps are the right way to go, but then they added the dumbest, most backward, manual, and wasteful method of distributing heat possible. There are no timers and no feedback mechanisms. This will result in tens of thousands of dollars of extra heating oil being used every winter.
Summertime should be better. The system is really designed as an air-conditioning system, and most of the negative features in January will be assets in August. The big problem, again, is the location of the faux "thermostats," which will still force us to adjust temperatures by hand during the day.
Neighborhood
The neighborhood is fantastic for kids. There are more pre-schools than I can count, and I can count pretty high. Nearby, on West End and 61st, is Western Beef, an old-school grocery store that's big enough to have many of the every-day items you need. In addition to white cheese and tamales, they actually carry almond oil and Newman's Own lemonade. In general, this store offers the big national brands you see in the middle of the country – if it can be made with high-fructose corn syrup, it's at Western Beef. Groceries will cost you around $35 a bag. Smart residents use Fresh Direct or take the building's shuttle bus to Trader Joe's, where groceries are a remarkably consistent $24 a bag in my experience.
Just north, at 65th and West End, is a new grocery store called Gracefully, where you really can pay more than Whole Foods for the same basic stuff. In our first tip here, we paid $80 for ONE bag of groceries. We still shop here on occasion, but we look at the price of each item before putting it in the cart.
Just around the corner, on Liberty behind the Trump buildings at about 66th, there is a wonderful market called Jubilee. It's every bit as good as Whole Foods and probably a bit less expensive. It's likely you'll do much of your shopping here.
Believe it or not, a world-class truffle store is just three blocks away! Urbani Truffles has everything the truffle fanatic can want, and I am not talking about chocolate.
There are project-style apartments across West End Avenue. I've strollered through several times and it seems calm and pleasant. But that's during the dead of winter. There are plenty of construction sites in the neighborhood – great if your son likes to watch diggers.
The rest is parks. There are so many to choose from within a short walk. You're exactly a ten minute walk to Lincoln Center.
There is a shuttle bus that triangles between the Ashley/Aldyn, Columbus Circle, and 72nd and Broadway every morning and evening. With luck (and some campaigning), I hope we'll be able to get a few runs set up in the middle of the day for those of us working at home.
Final Notes – For Renters
Come join us! It's a great time to be renting and a great place to rent. It's a high-end rental building, and worth the money. If you have kids, we'll see you in the playroom or at the pool. If you like to climb, I'm sure you'll meet me on the rock wall.
Final Notes – For Buyers
If you're buying at the $1m/br price of most floors until about the 30th, you can be pretty sure a greater fool will want to buy your apartment from you some day. Plus, you get the tax abatement. So in exchange for messing with thermostats all day and night, you get access to one of the best in-house sports facilities in the city, and you'll only end up replacing a few appliances to do it right. If you think buying is right for you at this point in our economy, go for it.
If you're buying above the 30th floor in this building, I would think again. For starters, the linoleum lobby is going to be hard sledding to get to and from your limo. You won't impress your friends with gray tiles and standard cabinets. And, with these "program" buildings, you can't buy it "as is" and do a remodel before they finish it. They actually have to finish them out to get their certificate of occupancy. So then the first part of your project is to take out all the crap they put in, redo it, and then get all new inspections. The right thing to do is rip out the floors and install radiant heating throughout, which solves the heating problem in winter but moves everything up about 4 inches, including the threshold at your front door. To be honest, I think a proper remodel on a 3br penthouse would be in the $1.5m range, twice that on a 6br. And that doesn't count fancy things like home theater or fish walls. It would easily take another six months. And I would love to do it for you. I'm not a licensed designer or contractor, I'm just a guy who lives in the building. But I'd be happy to talk if you're interested.